If there still exists a state in India, whereby you can find a touch of royalty, it has to be Rajasthan. The Land of Maharaja's is one of the most colourful & culturally rich places one can find across the globe. We are all familiar with cities like Jaipur, Udaipur, Jodhpur & Jaisalmer in Rajasthan but there is a whole lot to this state than these beautiful cities. We showcase you 5 off beat places in Rajasthan that you can look forward to visit with your family with us.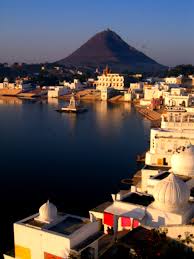 One of the most popular hotspots for foreign tourists in India, is the town of Pushkar, fondly known for its mega spectacle, the Pushkar Fair. It is the only place in India which still resides a Brahma temple.  Prime attraction is also the Pushkar Lake which bears resemblance to the Mansoravar Lake in Tibet. Competitions such as matka phod, longest moustache & bridal competitions are some of the main tourist draws in Pushkar.  The Pushkar Fair also boasts the Camel Fair, held each year in November during the time of Kartik Purnima full moon, is one of the highly rated tourists attractions all across India. Colours are galore & so is life at this time of the year in Pushkar, devotees can be seen dipping themselves in the holy water & tourists, ahh! I can say that they have the time of their lives!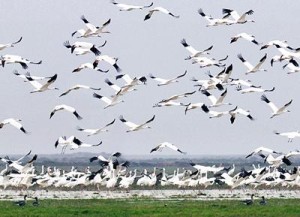 When in Rajasthan, you have to visit the Keoladeo National Park, a UNESCO World Heritage Site. Hundreds of species of birds from across the globe come flying to Bharatpur in winters, including the famous Siberian Crane. One of the world's best bird areas, tourists can spot some of the most diverse bird species here. It is such a SIGHT! Other tourist attractions also include the Deeg Palace, Bharatpur Palace & the Lohagarh Fort. When winter is here, you most definitely have to be here.
3 – Alwar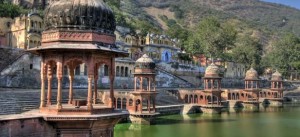 You won't find many cities in Rajasthan which are terribly hot yet boasts some of the most beautiful landscapes all across India. Well Alwar is one such city. It boasts some of the most historical monuments in India, like the 'Deewanji ki lal Haweli' built in 1754. Aravalli Mountain Range flocks the city on all four sides & this landscape is a treat to watch come the winters. Nearby tourist attractions also include the Siliserh lake, the famous Sariska Tiger Reserve, which earlier was synonymous with poaching but has once again been a breeding ground for Tigers & other animals like Sambhar, Chital, Leopard & the Hyena. One thing you associate the city of Alwar with is it's famous Milk Cake. It is sold all across the town & this  off beat city in Rajasthan is one that you certainly shouldn't miss.
4 – Chittogarh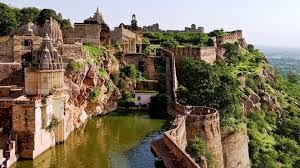 A historic city which was once the capital of the mighty Mewar, Chittogarh is a city to dwell yourself in, if ancient monuments & tales are what you like. A lot of history resides in this beautiful city, where once the Rajput & later the Moghuls thronged. Chittogarh includes some of the most varied ancient day architecture which has prime significance in history. The Famous Meerabai temple where, meera prayed to Lord Krishna, the Chittogarh Fort which was considered to be the fortress of many great warriors like Maharan Pratap. The iconic Rani Padmini's palace & the majestic Jain Kirti Stambha. There are some places which makes you want go back into time & Chittogarh is one of those historic cities to step into. Keep your check list ticking guys 😀 Time & Chittogarh, wait for no one!
5 –Bundi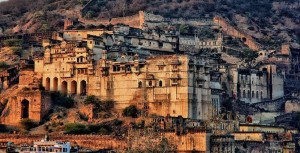 A gem of a city situated just 35-40 kms of Kota, Bundi is an architectural masterpiece in Rajasthan. It is home to several forts & palaces which have helped the city make a name for itself. A considerable part of the houses seen in the city are blue. Colourful, one must admit! Surrounded by Aravalli on three sides, this is where you would want to gaze in the night, where there are insurmountable stars in the sky. The Taragarh Fort is an ancient marvel of a construction, it is simply breath taking. You need not be an artist to witness it's structural genius. The Bundi palace is also notable for its traditional mural (artwork) & beauty just oozes out in Bundi. Also other notable places to visit are the Nawal Sagar, Dabahi Kund & Sukh Mahal among the other popular attractions. Bundi is a marvel, a gem in the neck of Rajasthan. Must say its picturesque is infectious & scintillating.
So what keeps you waiting guys? Pack your bags & hop-on to witness the true rustic beauty of Rajasthan this year.