The time to set foot atop the Land of Gods.
It's been a taxing couple of past months at work. Weekly Reports, Monthly reports, wait it was like I was working to capture this so called Mount Report, as that was all I did.  After much pondering I decided the 'time is right' to take a break from work & rejuvenate myself from this mess. We all become so busy with our lives that we forget to live our lives. "TRAVEL" most certainly is one of those things which helps us to be 'us again'.
I knew these two enigmatic yet charming sisters, who used to run a travel firm. Richaa & Kripa, were passionate travelers who went glob trotting wherever they could. I called them up & they said, 'this time of the year, Anhaita, it's time to visit the 'Land of Gods'. I knew it they were talking about Uttarakhand.
The itinerary included places like Delhi, Rishikesh, Haridwar  & lastly Jim Corbett National Park. I couldn't hide the excitement. We took off from Mumbai for a train to Nizammudin in Delhi. It was perfectly planned, we had a day to visit Old Delhi & treat ourselves to the most mouth watering delicacies across town. Famous places to visit in Old Delhi are literally the 'Paraonthe Wali Galli in Chndni Chowk. You can find as many as 40 different types of paranthas at Pandit Gaya Prasad Shivcharan. Desert included gajar ka halwa & cool Lassi in glasses made up of mud. So much to eat & a lot more to select from. Certainly Delhi didn't disappoint us. Paranthas for as less as 50 rs did us no harm & seeing the que that gathered to grab a bite, reassured us, that 'heart is where food is'.
Okay, jet set ready, we were to take the bus to Haridwar. Delhi was good but I thought Haridwar would be much better. Hari meant 'Vishnu' & War meant 'gateway', so technically it was Gateaway to Lord Vishnu. Land of God, justified. It's a beautiful city, crowded, the bazaar is loaded with people & most importantly the city is surrounded by a galore of beautiful temples with river Ganges flowing besides them. The best takeaway from Haridwar is the 'evening aarti' at Har ki Pauri.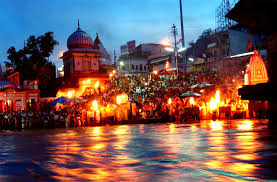 Majestic yet unnerving, never saw anything like that before. The ropeway to Mansi Devi temples & dozens of other temples make Haridwar such a sight. It's time to leave but not without having a last moment viewing of the towering Shiva statue at Har ki Paur. I am breathing, infact I can say, beauty emenates from Haridwar, the colors, the sound of the evening aarti & the aura of Godly presence. Om Namah Shivay!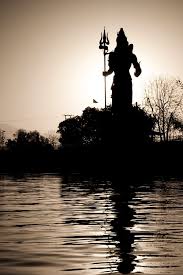 After 2 enriching days in Haridwar, it was time to move on, didn't want to but Rishikesh was waiting & so was Jim Corbett National Park. Up North we went of Haridwar & all on my mind was the 'Lakshman Jhula'.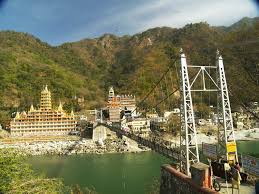 The jute roped bridge just above the Ganges, my oh my, that was indeed a sight! There are hoardes of temples here too & the trees are so very tall. Aloo parathans are everywhere to be found but what makes my adrenaline rushing was the 'white wate rafting. You live for the thrill, you live for life at the edge & so was the case in Rishikesh. The chilling water most certainly didn't dent my spirit to witness this inexplicable thrill that I was just about to encounter. The raft turns upside down, cold water enters your body but you are unfazed. It gave me such a rush of blood.
This is one joy which is second to none. Savage but you truly live your life when in Uttarakhand.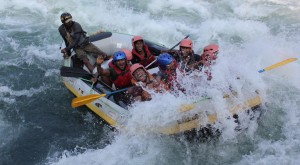 Chills, yep! The exuberance was tantalising perhaps that is what travel does to you, it makes you want to 'LIVE'.
Now my heart says go on, humming Celine Dion's song from Titanic :p …no other option though, Jim Corbett is still left to be witnessed. 2 days in Rishikesh went past like a walk in the park.
After a 6 hour drive, reaching our hotel was such a pleasant sight for all of us. We hadn't slept a night in Rishikesh as the group mingled quite well with each other. We just unleashed our sleep & slept like 2 year olds. Next morning though was the 6 AM wake up call, God, we didn't want to wake up but what could we had done, Tigers were waiting for us 😀
Now unless you are very lucky, only then can you sight a tiger in Jim Corbett National park. Tall trees, sound of the birds, dense forests & sunlight piercing the forest is one such sight that you might not have ever witnessed in your life. The open Jeep Safari is one fun thing, it is cold but it is indeed cool to see the beauty of the environment so close to you. Ahh! The smell of fresh air but no tigers spotted L

7 days! Phew, I don't even know where did it ended. Just as we thought we were having a great time in one city, the traveler's thirst was asking for even more! Travel is indeed fun be it you travel on your own, friends or total strangers. The breeze of calmness that flows, the flurry of joy that it brings with itself, memories, most of all we witness the true beauty of mother nature.
Abode of the Gods, Uttarkhand is righty so! Travel is the soul of this state & it makes you want to imbibe every inch of what it offers. A trip to remember, most importantly one to be revisited & explored upon as it roars just like it's Tigers & shine's just like the diya's.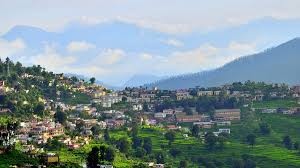 Signing off, A TRAVELER WHO IS NOW A NOMAD.